– Your village gardening club
In December we managed to hold the Banksian Medal Competition, with nine entrants.  Well done to Rosie and Mathew Phillips (the youngest entrants) for taking part. Woodturner Tony Sibley's table decoration included wooden Christmas trees, snowmen and bells. Congratulations to our 90 years young entrant, who was placed 2nd – which proves you are never too old!!  Despite great difficulty in choosing a winner, the final decision was:  1st place – Kornelia Hearman,   2nd place – Helen Bennett, 3rd place – Graeme Gettings and Highly Commended – Rose and Mathew Phillips.
1st place: Kornelia Hearman, with husband Roger and judge Joanna Fielden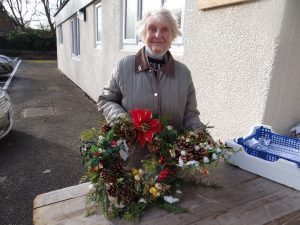 2nd place: Helen Bennett
3rd place: Graeme Gettings, with Joanna
The judges asked us to pass on congratulations to all the entrants, so, CONGRATULATIONS!
Well, we're in lockdown again!  The Committee will be preparing for the Summer Show, to be held in July 2021.  In the meantime, maybe we can hold another competition at the beginning of April (if lockdown has been eased) – how about "An Easter Bonnet with Spring Flowers."
Life on the allotment?  The past few weeks have been pretty cold!  And to add to the problems Defra advised the outbreak of avian flu.   It means that all chickens must be kept under cover so wild birds cannot gain access.  Fortunately my hens have always had an enclosed run, not only protecting them from wild birds, but keeping them warm and dry.  Their outer run is covered with butterfly netting which prevents even the smallest of birds getting inside.   The allotments are waiting for Spring – a bit soggy at the moment.  Good news is, I have sweet peas in the greenhouse, together with some garlic and six lovely lavender plants all waiting to be planted out.   It won't be long until it will be seed planting time.  My seed potatoes arrived by post this week, so are now chitting in the spare bedroom!!
DID YOU KNOW?  "It is said that marigolds, particularly the Mexican variety 'tagetes minuta' will control Ground Ivy, Horsetail and Ground Elder.  It may be disconcerting to the visitor to see a dense crop of marigolds blazing in some unsuitable part of the garden, but if this remedy works as effectively as turnips against couch grass, who cares?
HAPPY GARDENING – KEEP WELL AND SAFE